Vertical shaft of the former Sumitomo Akabira Coal Mine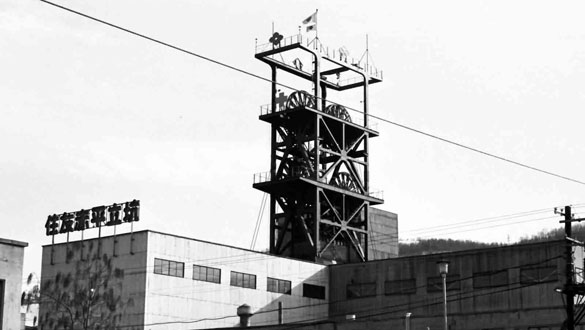 The shaft tower remains an Abashiri landmark even today. Completed in 1963, it stands 43.8 meters tall with a diameter of 6.6 meters and is equipped with a 1,600-kW winding machine. It was used to send miners 650 meters below the surface and pull up excavated coal, and cost around two billion yen to construct. The facility's structure, machinery, electricity system and other infrastructure elements remain today as they were when the last mine was closed. The high-speed four-level cage used to send miners up and down the shaft carried as many as 72 people (18 per level), and the technology involved was recognized as the finest of its kind anywhere in the East. The completion of the vertical shaft doubled annual production volumes from one to two million tons. While the facility was in operation, a signboard bearing the words Sumitomo Akabira Vertical Shaft was lit in neon at night, making it a symbol of the mines. However, the sign has been dark since the last mine was closed in 1994.
Address
Akabira 485, Akabira City 079-1143
Inquiries
Social Education Section of Akabira City Board of Education's Social Education Division
Tel.: 0125-34-2311
Fax: 0125-32-0810
Facility tours
The facility can be observed only from outside the premises.
Access by public transport
Akabira Station on the JR Nemuro Line → Chuo Bus Akabira Eki-mae bus stop (Utashinai or Takiashi routes bound for Ashibetsu Terminal) → Akabira Bunka Kaikan (culture hall) bus stop → 5-minute walk
Access by road
Takikawa IC on the Hokkaido Expressway → (National Route 38) → Road along National Route 38 (approx. 20 min., 11 km)