Mountain of Coal Mine Debris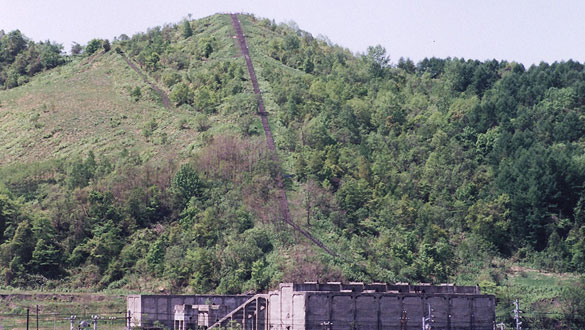 Waste rock and other refuse from mines are collectively referred to as debris. Over the years, this material was piled up using trolleys to form a mountain of debris that became a symbol of this mining city and is now used as one of the venues for the local Fire Festival. Today, people can climb Hokutan Akama Coal Mine's debris mountain using a stairway of 777 steps. This is the largest stairway on a mountain of coal mine debris anywhere in Japan. It leads visitors to the mountain top and sweeping views of Mt. Shokanbetsu-dake, Mt. Tokachi-dake and other high local peaks.
Address
Akabira 693-1, Akabira City 079-1143
Inquiries
Commerce, Industry, Labor Policy and Tourism Section of Akabira City Government's Commerce, Industry, Labor Policy and Tourism Division
Tel.: 0125-32-1841
Fax: 0125-32-5033
Facility tours
The mountain is now a public park. Signboards with information on the Former Hokutan Akama Coal Mine Washery and the 777-step stairway of the Mountain of Coal Mine Debris are provided in the parking lot.
Parking
free
Access by public transport
Akabira Station on JR Nemuro Line → 5-min. walk northeast
Access by road
Takikawa IC on the Hokkaido Expressway → (National Route 38) → Road along National Route 38 (approx. 20 min., 11 km)